Transitioning to Mayor
Transitioning to Mayor
On June 11th, I had the honor of being sworn-in as the next Mayor of Berwyn Heights.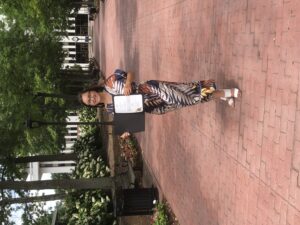 As I was appointed to my current position to fill a vacancy, this was my first experience running in a local election. It has been a valuable experience in communicating my priorities and, as always, using my sociological expertise to inform my policy plans and understanding of our community dynamics.
COVID-19 has posed some particular challenges. Our election was originally scheduled for May 5th, but it became clear that to hold our election in the typical manner safely would not be possible. After a lot of deliberation and staff work, we decided to hold our first ever election by mail and to delay the election by a month to allow sufficient time for preparation. I had advocated for a mail-in election in the fall as a means to increase voter participation, but this didn't move forward due to concerns of the election officials and other Councilmembers. However, a small silver lining of the horrific pandemic has been that we more than doubled our normal voter turnout with this new method, strengthening democracy in our municipality.
We face many challenges ahead including reforming and evaluating our policing practices as well as reckoning with the fallout of COVID-19 while ensuring the safety and health of our residents and addressing a projected revenue decrease. My platform focused on community engagement, regional partnerships, education, pedestrian and cyclist safety, and sustainability. I am excited to get to work to implement these priorities and serve my community.